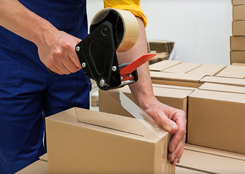 No time to pack? Use our packing services. Here at our company we know about the art of packing more than anyone else in London. Our young and skilful workers can pack all your possessions in no time, saving the day for you and your family.
They'll transform the mess of packing into a safe, hassle-free and nice process, working in a tidy and organised way. Whereas to you packing is annoying and tedious, to us it is a matter of proper knowledge. We've got everything done from bringing the boxes to providing paper and tape if necessary. Simple as that. You call and get the service done within 48 hours.
Packing Services London
Advantages of using our packing services:
Everything covered
Different boxes for different items
Your fragile items are safe with us
Trained experts
Extended working hours
Freedom to personalise our service
Using our service, you'll never have to worry about packing anymore. Sometimes this is more time-consuming than moving itself. So, if you're convinced to use a professional packing service, don't miss the chance to work with us. We'll make sure all your stuff is carefully packed and ready for transportation.